Hats. By BUNN.
I first spied his shop one morning in August while tooling around Harlem. I was taking pictures of brownstones and exploring the fabulous upper west side neighborhood that I'd heard so much about and had to experience.
Located about 100 feet away from the corner bodega where I stopped for coffee, and set back from a neighboring doorway, I couldn't quite make out what all the colorful objects were in the window and decided to take a closer look.
They were hats. Hats. By BUNN, to be exact. Classical Originals Made For All Seasons.
It was very early and the shop wasn't open, so I took in the view from the street. I was gazing in the window for what must've been a while when the door to the shop suddenly opened and a serious-looking man gave me the suspicious eye.
"What'cha want around here?" he said, his voice deep, his gaze serious. I asked if he was the owner. He said yes. I said I'd like to interview him because his art is amazing. He said yes. He said come back after five o'clock. I said yes. He closed the door. I went on my way.
I returned at 5:04 that evening and we had a great conversation.
This is your art. These are your creations. When, where and how did this all start?
It started a long time ago. In Manhattan. In Midtown. A friend of mine and me, we were doing some hat work, basic hats. That didn't work out. But by then I was bitten by the bug.
Did you collaborate on styles?
Well, he was doing most of the designing. I was fashioning molds and putting shapes to them. And then we started hustling, selling.
So you two leave that store and …
No. I left, and then started mastering my craft and I was doing work out of my house. Then my house started looking like a factory and I had to find a place.
And this place, this is where you landed.
Yes, lady. This is where I landed.
How were you getting your clients? How were people finding out about you?
I had, I think, the perfect idea. I would not call it ethnic, but I had, I think, I had a client base waiting for hats. And, and that was my drive.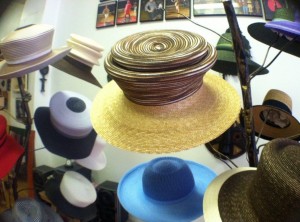 Who was this client base? Because I notice your accent. Is it Jamaican? Where are you from?
I'm from Trinidad. I came here (NY) as a kid, I've been here a long time. But my client base was basically people of color. Who couldn't find hats to fit, you know, their style. Cultural ideas and style and everything else. So that's what I was doing. And I kinda hit the ground running.
So who are your clients today? I see these hats and I imagine the people who buy them are unique, creative souls.
But yeah, but again, it's not just one set of people. And that's why I didn't want that mindset, like I only make hats for one type of people. You know, it's for whoever likes and feels comfortable in one of these pieces. Because there's not a label on it that says you have to be this way or that way. My client base I would say is people with confidence.
What striking similarities or differences are there between your male and female clients?
Gender.
Well, do the women come in knowing what they're looking for more so than the men or do they both seem to have an idea of what they want?
They both come with an idea to a degree because they both come in with the same thing, which is, "I want something different, a little more creative. Something that says me." And my objective is to fill that need. Like the hat I'm working on now, for this gentleman … he picked his shape, he picked his ribbon …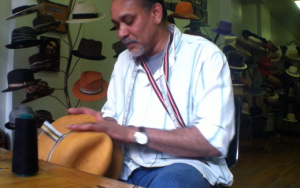 So these are mostly custom.
Yes. The bulk of my work is that.
Are there many of your clients who have been with you since you started?
Most of them. A lot of them. What has happened, through time, I've met their mother, a co-worker, and these people are from all over. From Atlanta, you know, England, other places like that. Because they like what I do. And if you're confident in the workmanship, telling somebody you know where to purchase something is a big step. So they are comfortable telling people.
Right. Otherwise they wouldn't spread the word.
Right. And I don't advertise.
Your work, your designs, speak for themselves.
I prefer it that way because I know it's the work and not me. Not as a friend. It's the work I do.
How do conceive your designs? Do you begin with a prototype initially, or do people walk into your shop, see a particular hat and say they want something like that?

A bit of both. I create things … I sit down, I might have an idea, and 99% of the time when I'm done, it's not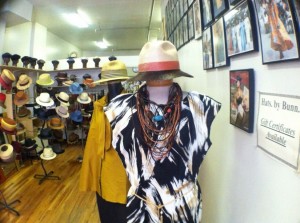 what I had in mind. I get bored fast, so, you know, you end up going another direction. And people, they come and see a hat, but they don't like the brim or don't like the crown, whatever. I come up with something based on who that person is. Sometimes they come in with an outfit for an occasion that they'll be attending.
What have been some of your best-sellers? That may or may not have surprised you?
I don't have a clue when it comes to that, and I don't think anybody who creates things can say this is the one that's going to do it.
Because the thing that you don't pay too much time to in the beginning, people just walk right into it, "I've been looking for something like this," you know what I'm saying? And the one that you put all the work into, all the thought and all of these things, it might not even sell one!
My customers. They run things here. I'm here to do their work.
What's your busiest season?
Fortunately I don't have one.
So it's pretty consistent throughout the year.
Yeah. Yeah. I'm one of those lucky fellas. I'm just one of the lucky fellas.
You definitely are. You're on the right path doing the right thing.
I am. Indeed. I'm doing the work I love to do and my customers like it and … like you said before, off-camera, I spoil them.
That's a great thing!
It's fine. I don't have a problem with that.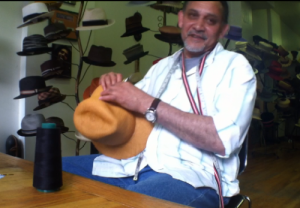 And they love it!
You know what it is? I love it too. I get the opportunity to do my work. So we need each other. And the reality is that I need them more than they need me, so I let them know that.
What do you do when you're not designing, creating? When you're not in your studio?
Ha! Sports and old movies.
Ah-ha. Old movies. Favorite?
Aw no, I like 'em all. I've got a lot of them.
Favorite sport?
Anything with a ball!
Okay, so if we're talking football, Jets or Giants?
Uhhhh …
JETS.
Okay. Sure. And we got two quarterbacks now so we can't lose.
Well, let's hope Tebow forces Sanchez to step it up.
Exactly. Now we're gonna have him work harder. Get more focus.
So you're known as BUNN. That's what you told me. Just BUNN. First name? Last name?
Look at the card.
Yes sir. BUNN.
Nobody questions Prince, ya' know? Or Madonna.
Right. Mr. BUNN.
Five years from now – where are you and what are you doing?
Makin' hats. I hope so.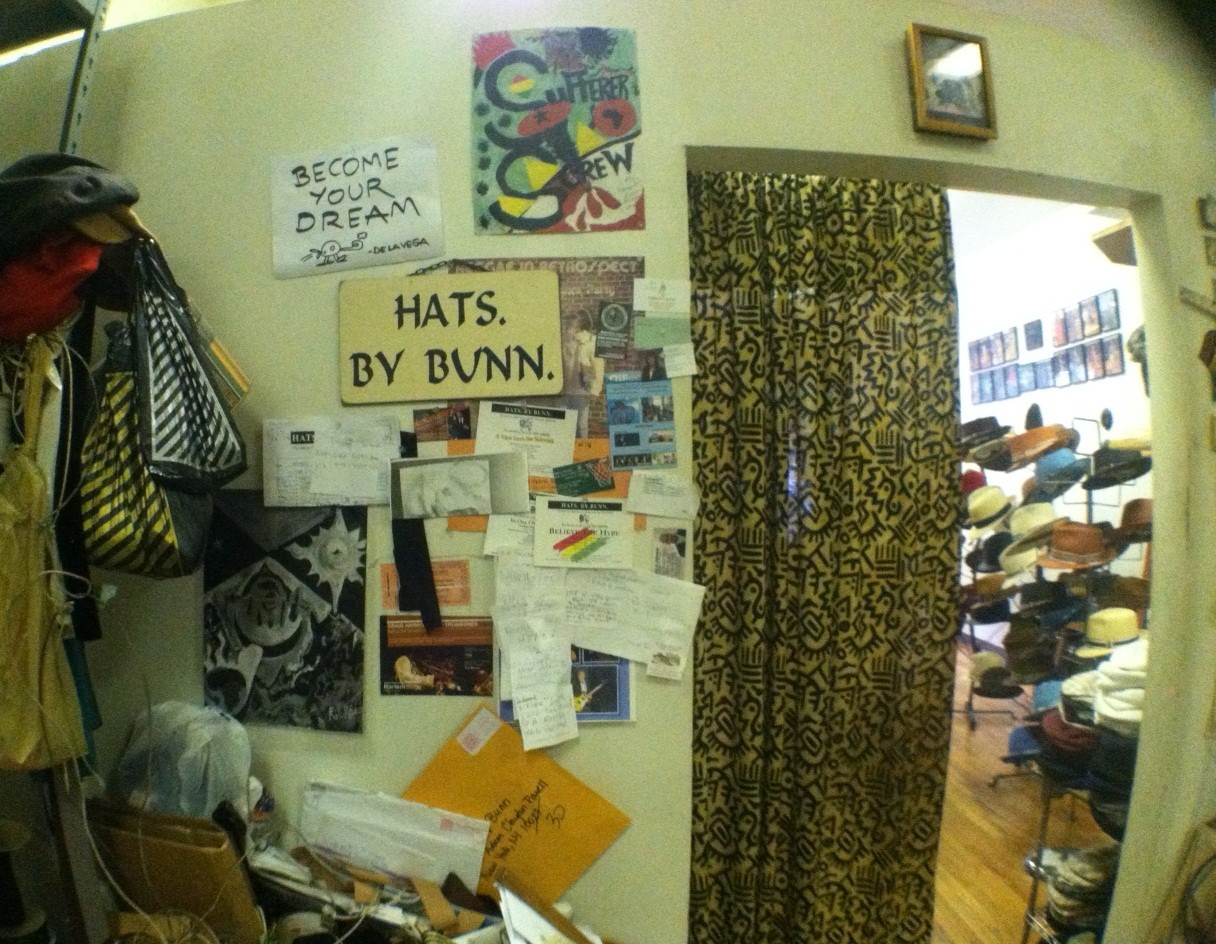 You're going to keep on doing what you do.
This is my art. And I like people. So it's my opportunity to meet people. And create with them and for them. I just enjoy doing what I do.
I can tell.
I'm not, you know, into wholesale or lots of sales. I just want to do my work. That's it.
Hats. By BUNN.
2283 Adam Clayton Powell, Jr. Blvd
7th Avenue between 134th and 135th
New York, NY 10030 212. 694. 3590