For The Love of Sake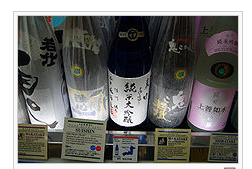 In the James Bond movie, You Only Live Twice, Mr. Bond is asked by the lovely Tanaka, "You like Japanese sake, Mr. Bond, or would you like a vodka martini?" James replies, "Oh no, I like sake, especially when it's served at the correct temperature, 98.4F, like this is."
I'm with James, and if you are too, mark your calendar for Japan Society's annual Sake Tasting and Lecture on Tuesday, June 19, beginning at 6:30 p.m.
The ingredients of sake (rice and water) are very simple, hence their quality is very important. Most sake breweries are located near a plentiful source of pure, natural water, which plays a big role in the final flavors and nature of the sake.
Sake rice is milled, sometimes down to 35 percent of the original size of the grains, in order to achieve the highest quality of sake.
Co-organized by Japan Sake Export Association, the lecture will be followed by a sake tasting reception with more than 30 kinds of premium sake.
Those partaking in the tasting must be 21 years of age or older.
Annual Sake Tasting & Lecture: Rice & Water: The Building Blocks of Premium Sake
Tuesday, June 19, 6:30 PM
Tickets: 
$35/$30 Japan Society members, seniors & students
Buy Tickets Online.
I found out about the upcoming tasting and lecture event during a recent impromptu explore of Japan Society, located at 333 East 47th Street. From the building's impressive façade to the serene indoor gardens and amazing waterfall, the three hours I spent at the Society only whetted my appetite for more. I'll be back soon and likely for an entire day!